We get asked this question often.  I mean a lot. I mean almost every day. Seriously, its like Groundhog day.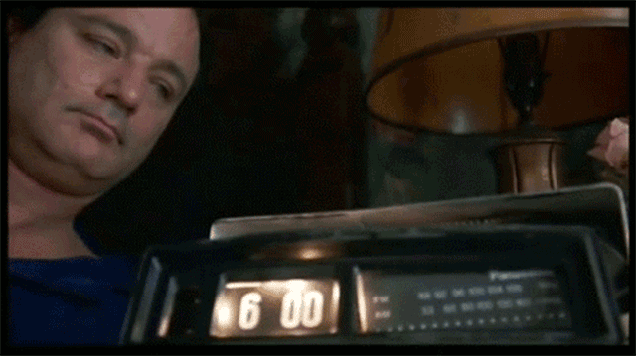 I really can't blame people for asking though. It is super confusing.  There are all kinds of values floating around out there and depending on what context your discussing your homes value, will depend on which value you will refer to.
When we talk about "Home Values" there are usually three different values that come up:
Assessed Value (SEV)
Market Value
Replacement Cost Value
Assessed Value (SEV):
The Assessed Value of your home is the amount that the Tax Man will use to determine how much you will pay in property taxes.  Most communities will "Assess" your home each and every year , and base your taxes on the amount they calculate.  Most municipalities will then take that assessed value and multiply by 50% and report it to you as the SEV (I think they like to confuse people!).  In a perfect world the assessed value should be very similar to the market value.  Although with the lag time of the assessments and only being done on an annual basis these numbers could vary.
Market Value:
The Market Value of your home is the price that your home would fetch in the open marketplace.  Not what your real estate agent tells you it is, but what it will actually sell for!  Here in Michigan this number has been on a roller coaster over the past 15  years.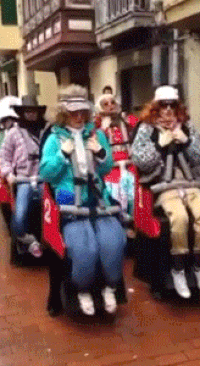 There are houses here in Richmond that over the course of 15 years the market value has fluctuated from a high of $150,000 in the early 2000's to a low of $40,000 in 2008-2009, only to rebound back to near $150,000 today!
Replacement Cost Value:
The Replacement cost value of your home is the how much it would cost to replace your home with materials of like kind and quality today.  Although this value tends to change over time it usually does so more slowly than either the assessed value or the market value.  In order to come up with a accurate replacement cost we need to gather some detailed information on you home.  Square footage only doesn't cut it.  As you can imagine there would be quite a difference in replacement cost on a 15o0 sq foot ranch if it had exotic hardwood flooring instead "Lick and Stick" vinyl squares for flooring.
How  much should you insure your home for? Which valuation to use?
Replacement Cost!
We always use the Replacement Cost Valuation as the amount of coverage to insure the home for.  The premise of insurance is to "Make you whole in the event of a loss".  The only way to do this is to have enough coverage to rebuild you home with materials of like kind and quality.
If we were to use either of the other two valuations their would be a good chance at the time of loss there would not be sufficient coverage for you to rebuild.
How do we come up with what the Replacement Value should be?
If someone tells you that a rule of thumb for replacement cost is $100 a square foot (or $125, or $150, or whatever the number of the day is) DO NOT TRUST THEM!  We are talking about probably the biggest asset you will ever own.  The replacement cost varies greatly based on the materials of used on the home.  Here is a visual of two 1950 square foot houses that will show why the "X" amount per square foot method is a bad idea!
Here is a quick view of the Replacement Cost for two different 1950 square foot houses.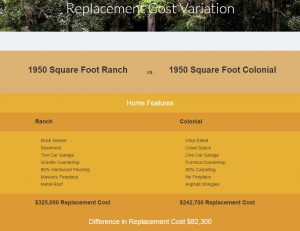 As you can see not all 1950 square foot houses are created equally!  If you were the owner of the ranch and your Insurance Agent used the $150 per square foot method to decide how to insure your home for, I would imagine if you had to rebuild you wouldn't be happy with your crawl space when you were used to a basement.
We have access to a sophisticated software program to help determine the correct amount of coverage for you home.  It is very detailed oriented. We start with the home style and construction type and go all the way thru down to the type of flooring and even the size of any decks you may have attached to your house.
There are also some free sites out there that you are able to do the same thing for.  One of them that I have found is pretty easy to use can be found here http://www.building-cost.net/Valuation/Start.
Have you made major changes to your house?
If you have made major changes to your house over the years and have not discussed these with your Insurance Agent, now is the time!!  Depending on the type of home improvement that you have done you may find yourself under insured.
Contact your agent if you have made any of the following changes:
Kitchen remodel going from laminate counter tops to a solid surface counter top
Any type of addition
Upgraded flooring
Added a Bathroom
Finished your basement
No need to contact your agent for these types of changes:
New Windows
New Appliances
New Hot Water Heater
New Siding
If you are thinking your coverage may not be correct it is time to give us a call.  Be ready to answer a bunch of questions and we can get that coverage amount adjusted correctly!