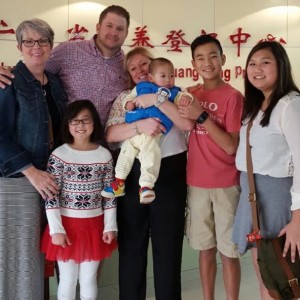 Exactly three weeks ago today I along with my wife, three children and my mother hopped on a plane and headed to China.  Our goal was to add a little guy to our family.  As you can see from the above photo we were successful and Tatum Albert Verlinde (AKA Xu Yan Zhoa) joined our family.  It was a trip of a lifetime and after over a year of paperwork and planning, we were on our way.
In the weeks leading up to the trip a few people asked me if I was worried about being away from the office for so long. I've been gone for a week at a time in the past.  In the summer of 2014 when my father passed away, I was checked out mentally for what seemed like the entire summer. But this was different. I was really gone. Like on the other side of the earth gone.  Sleeping when the office was awake and awake when the office was sleeping.  Each time someone would ask me I confidently would say "The office is the least of my worries."  I was seriously worried more about our dogs, or who would plow our driveway if a snowstorm came.  I'd get a weird look from some people.  Like they were thinking "Your more worried about your dogs than your business?"
The reason I was not worried was not because I didn't care about the business or I don't care about our clients.  The reason is that "I have the Best Team Members in the WORLD!"
Three weeks I was not in office. Three weeks I never logged into my work computer. Three weeks I never had to reply to an "Urgent" email.
Guess what happened in those three weeks? Houses were bought and insured properly. People added and deleted vehicles.  People got into accidents and their claims were processed.  The office even had a terrific month of writing NEW clients.  All these things happened because of the wonderful team we have here at Verlinde Insurance Agency.
The team doesn't just punch a clock.  They enjoy the contact that they have with our clients and the enjoy making sure that our clients are being protected from financial hardships.
When I arrived back to the office there were not fires to put out and I realized that my thoughts were correct.  The team could handle it and they did a great job at it!
Super big thanks to Barb, Brian, Kathe and Mark.  You guys are rock stars and I am so happy that you are a part of the Verlinde Insurance Team.
Jason